Growing Zucchini for Summer
Vegetable Sautes
After growing herbs, growing zucchini and other summer squash is about the easiest garden task.
Growing Zucchini—'Raven'
© Steve Masley…Click IMAGE to Enlarge
Zucchini are a specific type of summer squash, and share the same soil, water, and cultural requirements as other squash. For information on how to grow zucchini, click Here. For information on varieties of zucchini, see below.


The two most common mistakes zucchini growers make are:
Planting too many
Waiting too long to harvest
When planting zucchini, 2 plants will produce plenty of zucchini for a family of 4. It's probably better to plant a mixture of zucchini and other summer squash, like patty pan or crookneck, so you have a mixture of colors, textures, and flavors.
See Harvesting Zucchini for tips on harvesting.

---
<!—Horizontal NAVBAR CODE STARTS HERE -->
How to Grow Zucchini | Growing Zucchini in Containers
Harvesting Zucchini | Summer Squash Varieties
<!—Horizontal NAVBAR CODE ENDS HERE -->
---
Types of Zucchini, Zucchini Varieties
Like other summer squash, most zucchini available today are bred for an open, bushy habit that makes it easy to find and harvest squash.
Green Zucchini
'Raven' (F1 Hybrid, 48 days) produces deep green zucchini that are loaded with leutein, an antioxidant that helps protect the eyes from UV damage that contributes to macular degeneration. Compact bush plants kick out 2-3 zucchini per week at peak, so you're not inundated with squash. Skins stay tender up to 9-10" (22-25cm), but harvest at 6-8" (15-20cm) for best flavor and texture.
'Plato' (F1 Hybrid, 48 days, resistant to Zucchini Yellow Mosaic Virus, Watermelon Mosaic Virus, and Cucumber Mosaic Virus) is similar to 'Raven' in appearance, but with superior disease resistance.
'Bush Baby' (F1 Hybrid, 49 days) produces mature-looking zucchini at 4-6" (10-15cm)–they are proportioned more like full-sized zucchini even when small. Medium green skin with light green stripes. Good selection for growing zucchini in containers.
Yellow Zucchini
'Soliel' (F1 Hybrid, 48 days, resistant to Powdery Mildew) produces beautiful, sunny-yellow zucchini that produces high yields for an extended harvest. Large plants need a little more space than more compact varieties.
Italian Ribbed Zucchini
These are the flavorful Italian "ribbed" zucchini that produce star-shaped slices.
'Costata Romanesco'
(Heirloom, Open Pollinated, 52 days) produce light green, flecked zucchini with prominent ribs. They have great texture and a delicious, nutty taste, but produce fewer zucchini than hybrid varieties.
Cousa (Middle Eastern) Zucchini
'Magda' (F1 hybrid, 48 days) produces pale green, squat zucchini with a nutty flavor that are usually harvested at 3-4" (7-10cm).
See How to Grow Squash for soil, water, fertilizer and cultural requirements.
<!—Horizontal NAVBAR CODE STARTS HERE -->
Top of Page | Top of Zucchini Varieties Section
<!—Horizontal NAVBAR CODE ENDS HERE -->
Growing Zucchini in Containers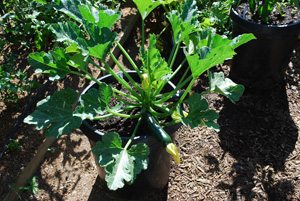 'Raven' Zucchini in a 10-gallon Pot
© Steve Masley…Click IMAGE to Enlarge
If you're interested in growing zucchini in containers, you'll need a big container, a rich potting soil, and the right varieties.
Container-grown zucchini need a deep root zone, so plant them in deep planter boxes, half-barrels, or 10-15-gallon pots filled with a rich organic potting mix. For a basic potting mix, click Here.
Zucchini, like all squash, are heavy feeders. If you're growing zucchini organically, it's usually best to mix good compost and organic soil amendments into the potting soil before planting. That way, they break down slowly, releasing nutrients throughout the growing season.
Dr. Earth Organic Tomato, Vegetable, and Herb Fertilizer

Growing Vegetables in Containers for more information on potted vegetable gardens.
Harvesting Zucchini
Harvest zucchini small, and frequently. 4-7" (10-18cm) is usually the best size for most kitchen uses. At this point, the skins haven't toughened up and the seed cavities aren't pithy.
Zucchini grow amazingly quickly on a mature plant at the height of summer. A zucchini that's 6" (15cm) long today could be 9" (23cm) long tomorrow, so when in doubt, cut it out.
---
<!—Horizontal NAVBAR CODE STARTS HERE -->
Top of Page | Zucchini Varieties | Growing Zucchini
Summer Squash Varieties | Winter Squash Varieties
<!—Horizontal NAVBAR CODE ENDS HERE -->
---
---
Copyright © 2009-2015, by Steve Masley, Grow-it-Organically.com
All rights reserved

<!—BOTTOM NAVBAR CODE STARTS HERE -->

HOME | About Us | Contact Us | Privacy

<!—BOTTOM NAVBAR CODE ENDS HERE -->