About Us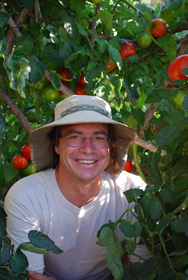 Steve in the Tomato Temple
© Steve Masley…Click IMAGE to Enlarge
About Steve
Creator and Designer of
Grow-it-Organically.com

Edible Landscape Designer,
Balcony Farmer, and
Organic Gardener
Hi, I'm Steve, and I'm the creator and designer of Grow-it-Organically.com.
I've been growing vegetables organically since 1985, and designing and installing edible landscapes, balcony farms, and drought-tolerant native and Mediterranean gardens in the San Francisco bay area for the last 10 years.
In 2007 I re-started the student garden at the Stanford Community Farm, and taught the Local Sustainable Agriculture Field Practicum at Stanford University in 2007 and 2008.
I had to pull together everything I knew about organic gardening to teach this class, and put in some research time as well, to answer a steady stream of clever questions from students and other community gardeners.
After answering many of the same questions over and over again, I decided to put what I know into this web site. Most of the vegetables shown on these pages were grown at my plot at the Stanford Community Farm, and on a balcony farm at my apartment.
Except in a very few instances, I took all of the photos, including a few choice shots of vegetables growing in other gardeners' plots.
My wife Pat has been an enormous help throughout the process of putting together this site.
Editor and Design Consultant
Assistant Gardener, and Photographic Critic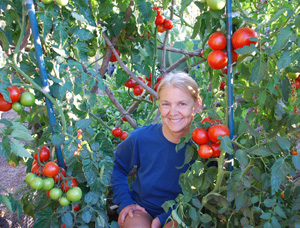 Pat in the Tomato Temple
© Steve Masley…Click IMAGE to Enlarge
Pat is my "auxiliary brain". She's very good at catching mistakes and breaking things down into critical steps, two essential skills of any editor.
She also finds deadheading flowers and plant grooming to be a relaxing break from her main job as Creator and Designer of our sister site, Gluten-Free-Around-the-World.
Pat has made me a better photographer. While I may be happy getting a good picture of a healthy, vigorous tomato plant, Pat is quick to point out distracting background elements like exposed irrigation lines, yellow leaves, or other photographic imperfections.
Some photos on this site are re-do's based on her constructive criticism, and many more are one-time shots because I've learned to pay attention to these details, instead of just focusing on the plants.