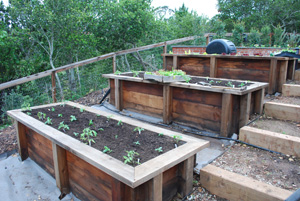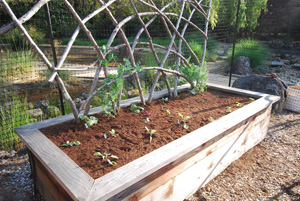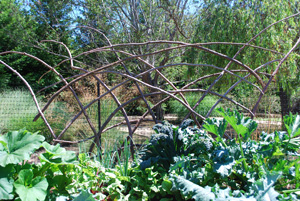 Having problems with your existing garden? We can troubleshoot issues, point out common mistakes, and make recommendations to ameliorate the problem.
Planting your first raised garden bed? We can help with siting and design of the beds, and fill them with a rich organic soil that vegetables will thrive in.
Want to know which vegetable varieties perform best in your area? We've experimented with hundreds of varieties of tomatoes, peppers, eggplants, cucumbers, squash, and other vegetables, and know which varieties perform best in the Bay Area.
Want to do an organic container garden or balcony farm? We can help with tweaking organic potting soils and setting up irrigation for growing vegetables in containers.
Eager to start composting, or having problems with your compost pile? We can help you set up a composting or worm composting system, or troubleshoot an existing system that's not working.
Want to get off chemical gardening? We can recommend organic soil amendments to replace chemical fertilizers, and set up a customized garden plan for your site that will build up populations of beneficial insects to attack garden pests before they become a problem.
Credentials:
I've been growing vegetables organically in the San Francisco Bay Area since 1985, and designing, installing and maintaining raised bed and in-ground organic gardens and edible landscapes since 2002.
In 2007, I re-started the student garden at the Stanford Community Farm. I taught the Local Sustainable Agriculture Field Practicum at Stanford University in 2007 and 2008.
Rates:
Site Assessment, Garden Consultation, Troubleshooting:
$400 for a 1 1/2 hour site assessment and consultation, followed by a written report of site-specific recommendations. Road time applies outside a 30-mile radius of Petaluma, California, but can be reduced or waived if I can schedule multiple consultations in the area the same day.
---
Copyright © 2009-2020, by Steve Masley, Grow-it-Organically.com
All rights reserved

<!—BOTTOM NAVBAR CODE STARTS HERE -->

HOME | About Us | Contact Us | Privacy

<!—BOTTOM NAVBAR CODE ENDS HERE -->