Pepper Varieties and Types
Pepper varieties can be divided broadly into sweet peppers and hot peppers, or chiles. I've listed some favorite sweet peppers below. See hot pepper varieties for recommendations on their hotter cousins.
Sweet peppers range from the familiar bell pepper to sweet, thick-walled pimiento peppers, to Italian 'corno di toro' (bull's horn) peppers.
All seeds featured on this site are non-GMO.
Organic seeds are, by definition, non-GMO. Most varieties featured here are organic, but some varieties are only available as non-organic seed. Don't let this prevent you from trying a variety that looks interesting.
NOP (National Organic Program) guidelines allow the use of non-organic (but not GMO) seeds when organic seeds for that variety are not available. The way the plants are grown (without chemical fertilizers, pesticides, herbicides, or fungicides) is the primary determinant of whether they're grown organically.
Links to buy seeds go to seed companies that offer that variety. We are affiliates of Seeds Now. We receive a commission on seed orders you place to this company (the commission comes from the company, so you pay the same whether you click on our link or order directly from the company).
Commissions help pay for maintaining and updating this web site. Links to other seed companies are provided as a service, we receive no commission from them. Links open in new windows.
---
---
Sweet Bell Pepper Varieties
Pepper Varieties—'Gourmet'
© Steve Masley…Click IMAGE to Enlarge
Green peppers are sweet peppers that have been harvested green, before ripening.
Most bell peppers turn red on ripening, but there are also yellow, orange, white, purple, and even chocolate-colored cultivars.
As the fruit ripens, it loses some of the bitter flavors of green peppers and becomes sweeter and much more nutritious.
The bright pigments in peppers are not only beautiful, they're part of the reason these fine vegetables are so good for you. Each pigment is an important phytochemical that helps protect cells from damage.
Green to Red Bell Pepper Varieties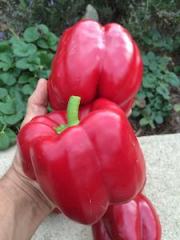 'California Wonder' (Heirloom, Open Pollinated, 55 days green, 70 days bright red) produces heavy yields of 4-lobed, thick-walled bells that are perfect for roasting, grilling, and stuffing. This early bell pepper produces well in cool-summer and northern gardens.
Buy 'California Wonder' Seeds

(Seeds Now)
'Yolo Wonder' (Heirloom, 80 days) is probably one of the most frequently seen green pepper varieties in supermarkets. Very productive plants with good leaf cover to reduce sun scald.
Buy 'Yolo Wonder' Bell Pepper Seeds

(Seeds Now)
'Ace' (F1 hybrid, 50 days green, 70 days bright red) is a very early bell pepper that produces heavy yields of medium-sized bell peppers. If you're growing bell peppers in northern or alpine short-summer gardens, this is one of the best pepper varieties for you.
Buy 'Ace' Seeds

(Johnny's Seeds)
'Staddon's Select' (F1 Hybrid, 70 days green, 80 days red) is another great early red bell pepper that produces even in cool- or- short-summer gardens.
Buy 'Staddon's Select' Seeds

(Territorial Seeds)
Click Any Image to See a Larger Version
Bell Peppers of Every Color
'Gourmet' (Open pollinated, 85 days, resistant to Tobacco Mosaic Virus) is one of the best orange bell peppers I've grown. It produces 6-12 sweet, thick-walled, elongated orange bell peppers. Sets fruit early enough to color up before frost.
Buy 'Gourmet' Pepper Seeds

(Territorial Seeds)
'Horizon Orange' (Heirloom, Open Pollinated, 75 days) produces lots of medium-sized, orange sweet bell peppers. Excellent container pepper for a warm balcony.
Buy 'Horizon Orange' Bell Pepper Seeds

(Seeds Now)
Pimiento Peppers
'Pequillo' ('Little Beak') Peppers
© Steve Masley…Click IMAGE to Enlarge
Pimiento Peppers
are thick-walled, heavy, and sweet. They need a long, hot summer spreading into fall to develop their full flavor and characteristic sweetness.
'Peqillo' ('Little Beak') peppers are a classic pimiento pepper. With a slight citrus edge to balance their sweetness and just a kiss of heat, they're wonderful roasted and served with a drizzle of olive oil, roasted garlic, and a splash of sherry vinegar, the standard Basque treatment for their native peppers.
Pimiento peppers don't get as large as many bell peppers, but they're denser and much heavier for their size.
They can have pointy tips, like 'Pequillo' or 'Lipstick' peppers, or be rounded on the bottom, like 'Alma' paprika peppers or 'Sheepnose' cheese peppers.
Blunt-bottomed pimiento peppers make excellent stuffing peppers, since their flat bottoms make them more stable in a roasting pan.