Mar 04, 2017
Eat Your Dirt Summit Goes Live Tomorrow!
A reminder for those who have signed up for the Eat Your Dirt Summit--We go LIVE tomorrow!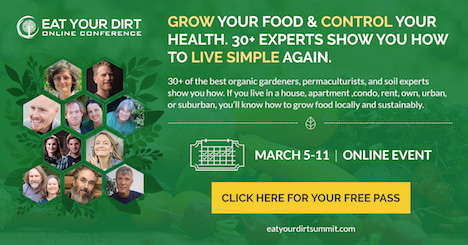 The Summit features 30 Edible Landscaping, Organic Gardening, Permaculture, and Sustainability experts.

It's not too late to sign up! YOUR FREE PASS gives you rolling 48-hour access to ALL the conference content.
I'll be speaking on Vermicomposting and Potting Soil Mixes on Sunday, March 5th, at 9 pm EST (6 pm PST)
On Monday, March 6th, at 6 pm EST (3 pm PST), I'll be speaking on Container Gardening and Growing in Raised Beds.
I'll also be available on Live Q & A Sessions on Monday, March 6th at 11 am EST (8 am PST) and Thursday, March 9th at 3 pm EST (Noon PST). Call with Questions!