Harvesting Cucumbers
There should be no mystery with harvesting cucumbers.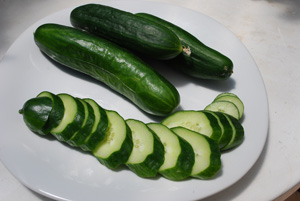 Harvest Cukes While Skins are Still Tender,
Before Seeds are Mature © Steve Masley
Click IMAGE to Enlarge
When the cucumber reaches the "mature size" specified on the seed package, it's time to harvest. If you wait too long, the skins get thicker and the seeds, and seed cavities, enlarge at the expense of the flesh of the cucumber.
Cucumber stems are tough, so harvest by cutting, not pulling from the vines, to avoid damaging the vines.
In general, harvest cucumbers as you would summer squash: while the skins are still tender, before the seeds are too large. Like summer squash, continued harvest before seed set encourages continued flowering and fruiting.
Harvest green cucumber varieties before they turn yellow. Green cucs that have "gone yellow" are more bitter, and have thicker peels.
Here's a recipe for a crisp summer salad:
<!— VIETNAMESE CUCUMBER AND MINT SALAD RECIPE Code Starts Here -->
Vietnamese Cucumber and Mint Salad

1-2 medium cucumbers, cut in chunks

1/2 red onion, sliced thinly

4 sprigs fresh mint, leaves removed and chopped

1/4 cup rice vinegar

1 tsp sugar

1-2 tsp fish sauce

Ingredients: Cucumbers, Red Onion,
Mint, and Rice Vinegar Dressing
© Steve Masley
Click IMAGE to Enlarge

Vietnamese Cucumber and Mint Salad
© Steve Masley…Click IMAGE to Enlarge

Cut the cucumbers into bite-sized chunks. Small cucumbers can be cut on the diagonal into thick slices. Cut larger cucs in halves or quarters and slice diagonally. Slice the onion thinly, chop the mint, and mix the three ingredients. In a small bowl, dissolve the sugar in the vinegar, and add fish sauce to taste. Dress the salad. Serve chilled.
<!— VIETNAMESE CUCUMBER AND MINT SALAD RECIPE Code Ends Here -->
---
<!—Horizontal NAVBAR CODE STARTS HERE -->
Top of Harvesting Cucumbers | Cucumber Varieties
Growing Cucumbers | Growing Cucumbers in Containers
<!—Horizontal NAVBAR CODE ENDS HERE -->
---